TORCHWOOD: EXODUS CODE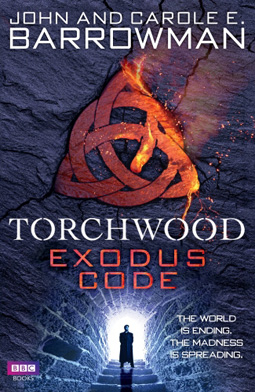 Torchwood: Exodus Code is an epic thriller that finds Captain Jack and Gwen in a race to save humanity itself...
From the BBC Books press release:
It starts with a series of unexplained events. Earth tremors across the globe. Women being driven insane by their heightened and scrambled senses. And the world is starting to notice – the number one Twitter trend is #realfemmefatales.
Governments and scientists are bewildered and silent. The world needs Torchwood, but there's not much of Torchwood left.
Captain Jack has tracked the problem to its source: a village in Peru, where he's uncovered evidence of alien involvement. In Cardiff, Gwen Cooper has discovered something alien and somehow connected to Jack. If the world is to be restored, she has to warn him – but she's quickly becoming a victim of the madness too.
John and Carole Barrowman have been science fiction fans since the Third Doctor. They've collaborated on two volumes of John's autobiography (Anything Goes and I Am What I Am), a comic strip adventure with Captain Jack in the official Torchwood magazine and a fantasy children's novel, Hollow Earth.
Torchwood: Exodus Code was published in the UK by BBC Books on 13 September and is now available from online retailers, including Amazon, and in all good bookstores. It is available in print and audio-CD editions.
Signing Events
John and Carole undertook a UK signing tour for Torchwood: Exodus Code, as follows:
6.00pm-7.00pm Friday, 14 September
Waterstones, 174 Argyle Street, Glasgow G2 8AH
Phone: 0141 248 4814
2.00pm-3.00pm Saturday, 15 September
WH Smith, Store 5, Arndale Centre, Manchester M4 3AD
Phone: 0161 834 8300
1.00pm-2.00pm Sunday, 16 September
Waterstones, West Village, Bluewater, Greenhithe DA9 9SE
Phone: 0843 2908159
5.00pm-6.00pm Monday, 17 September
Waterstones, 2a The Hayes, Cardiff CF10 1WB
Phone: 029 2066 5606
6.00pm-7.00pm Thursday, 20 September
Forbidden Planet, 179 Shaftesbury Avenue, London WC2H 8JR
Phone: 0207 420 3666