THE FOOD OF LOVE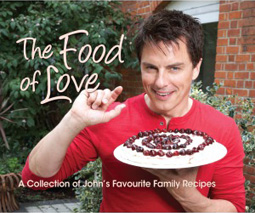 The Food Of Love is a cookery book with a difference. Edited by Clare Barrowman Casey, it is a lovingly-compiled selection of Barrowman family recipes, brought together in one beautiful, hard-bound collection.
Only 1500 copies of The Food Of Love were printed and were available to buy from the venues during John's upcoming 2011 Concert Tour. The book is not currently available for purchase.
John wrote a very special foreword to the book which reveals how much The Food Of Love means to him and his family:
"The book ... began as a collection of Barrowman family recipes that my niece Clare compiled as my Christmas gift in 2010. Clare gathered the recipes, and many of the photographs, so the book would be a gift of memories for me as well as a recipe book. Luckily as you'll see there's no shortage of photographs of me eating.
All of the recipes in the book are my favourites and under each one I've written a few words about why. The recipes themselves though come from the credited family members (so blame them if the dish doesn't turn out right).
You'll notice that the book begins with dessert because for any Barrowman the most important part of the meal is the pudding. We're never too full for pie or an ice cream because we're born with a separate section in our stomachs for dessert."