Henley festival - pure gold from the silver screen
John and Kerry Ellis (Wicked)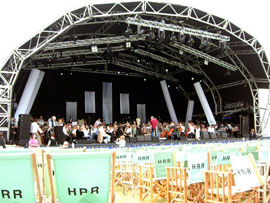 The Henley Floating Stage during rehearsals
10 JULY 2009: Each summer, a five day Arts Festival is held on the lawn beside the River Thames at Henley in Oxfordshire. Visitors to the Henley Festival don their posh frocks and black ties, and enjoy varied events including street theatre, sculpture, live music and comedy. Main acts appear on the Festival's floating stage moored on the River Thames.
John headlined the Friday night show on the floating stage and was joined by leading lady Kerry Ellis (Wicked), the group Cantabile, John's friend and musical director Matt Brind and the BBC Concert Orchestra conducted by Larry Blank. Larry is an old friend of John's and produced the album Swings Cole Porter. John's parents, sister Carole, and manager Gavin were in the audience.
The event was hosted by Michael Parkinson and was recorded by BBC Radio 2 for its ever-popular Friday Night is Music Night series.
The concert celebrated songs from the world of movies and John sang the following songs:
If I Could Write A Book
Have You Met Miss Jones
It Had Better Be Tonight
Laura
From A Distance
That's Life
(Duets with Kerry Ellis)
Come What May
9 to 5
The concert will be broadcast on BBC Radio 2 on Friday 28 August at 7.30pm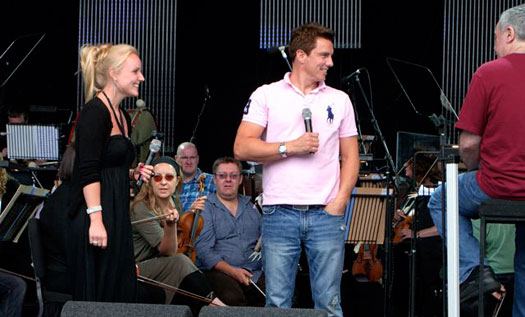 Kerry and John in rehearsals with the BBC Concert Orchestra conducted by Larry Blank
Kerry Ellis, John, Matt Brind (John's musical director) and John's sister, Carole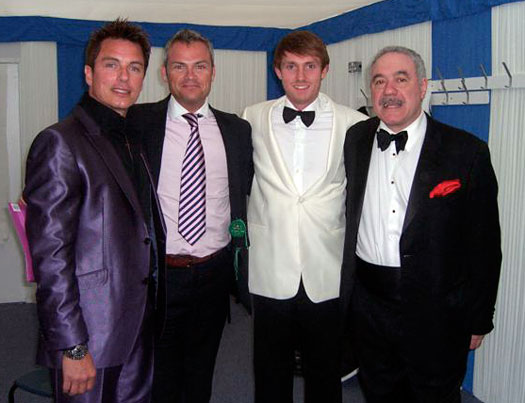 John, his manager Gavin Barker, Matt Brind, and conductor Larry Blank