BROADWAY AT LEICESTER SQUARE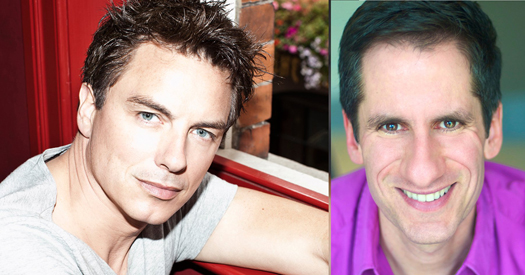 Cabaret - Leicester Square Theatre, London
13 and 14 April 2018
John was thrilled to be back on the London stage for three very special cabaret shows on Friday, 13 and Saturday, 14 April 2018, performing in Seth Rudetsky's Broadway at the Leicester Square Theatre.
"Broadway @ Leicester Square Theatre began in 2013 with Patti LuPone and returned with Audra McDonald last season. What differentiates this concert series from any other perhaps, is the seamless mix of intimate behind-the-scenes stories from Broadway's biggest stars – prompted by Rudetsky's probing, funny, revealing questions – and their stellar singing of musical theatre repertoire. This is a spontaneous evening of hilarity and show-stopping songs that is not to be missed." ~ Leicester Square Theatre
Reviews
THE TIMES ★★★★★ "A mad, mad, exhilarating evening."
BROADWAY WORLD UK ★★★★★ "John Barrowman is a superb entertainer who knows his audience well and it was a joy to see him perform in such an intimate setting."
THE STAGE ★★★★ "Wildly entertaining."
MUSICAL THEATRE REVIEW ★★★★★ "Whether he's singing Unusual Way from Nine, his Wicked re-write, The Doctor and I, or Marry Me a Little from Company, his emotion and devotion to every song is mesmerising."
THEATRE REVIEWS ★★★★★ "I've never seen such natural easy vocal skills like John Barrowman's. He sings from the heart and has effortless vocal skills. He can snap in and out of comedy, to teary-eyed revelations, to heart-felt songs in a second."
PAGE TO STAGE REVIEWS ★★★★★ "Barrowman is an incredibly versatile showman and his talent for moving from a visibly emotional performance to a funny anecdote in the beat of a heart was amazing to experience."
PLAYHOUSE PICKINGS ★★★★★ "...incredible pitch-perfect voice ... the power and emotion that he brought to those songs was amazing."
THE AMERICAN "Rudetsky just had to press play and Barrowman was off telling tales of his childhood performances, his amazing break through and gossipy titbits about working with Lloyd Webber or Cameron Mackintosh or Sondheim."
WEST END WILMA ★★★★ "Wonderfully gratifying, this was a night that warmed many a heart in the Leicester Square Theatre."
THE REVIEWS HUB "Listening to Barrowman sing on albums or concert DVDs can't prepare you for the vocal powerhouse he is in person."
MONSTAGIGZ ★★★★★ "...we would happily have sat there listening and watching all weekend."
THERE OUGHT TO BE CLOWNS "Barrowman's force of personality means the anecdotes flow out of him with barely any prompting from the wonderfully acerbic Rudetsky."