Aladdin 2007-2008 - Press Conference
On 5 June 2007, John appeared with Aladdin cast members Lila McConigley (Princess Yasmin) and Masashi Fujimoto (The Emperor) to launch the Birmingham Hippodrome's 50th annual pantomime. After posing for photos, John took questions from the press.
Q: What is it like to be doing the Hippodrome's 50th pantomime?
JB: This is the biggest pantomime in the country. Once you have reached here pantomime-standard-wise, I guess it's the biggest and the best, so I'm totally excited about doing it. I started doing pantomime three seasons ago, so in my third season, it's now the biggest, and I'm really chuffed by that. It's the British public and all the people around the country who have helped put me there, so I'm going to put on a good show for them and it's going to be excellent. What other show's got Daleks and everything involved in it? Come on!
Q: Where did the Dalek idea come from?
JB: I think it was a collaborative idea because we had to get permission obviously to use them and last year I did a panto also for Qdos and we had some jokes about the Tardis - not making fun of the show itself, about Doctor Who, but emulating it. So when they saw it, they thought this year we must have the Daleks.
Q: What else can we look forward to?
JB: You can look forward to the first 3D genie and lamp that the audience can rub – I wish I was 3D! The lamp will appear over the audience and the children and mums and dads can rub the lamp and then the show begins. There will be interactive bits, there'll be cinematic sections – everything that you can imagine from all types of entertainment that will be involved in this pantomime and that's why I'm saying it's the biggest and best one that's going to be happening around the country.
Q: Birmingham crowds have a bit of a boisterous reputation…
JB: You know what, I've got a bit of a boisterous reputation myself! You guys haven't seen me on stage in pantomime because I get a little naughty and go a little off the beaten track every so often, so I'm looking to have a good time!
I have performed in Birmingham before. I guested for Elaine Paige when she was over at the Concert Hall and I'll be spending Christmas here, so I'll be a Brummie for about two months while I'm here. I hear it's got some really good shopping, the people are very friendly and I heard they like dogs in the city, so my dogs will have a good time.
Q: Have you mastered the accent yet?
JB: Zoe Tyler, who I'm on "Joseph" with, she said I have to learn how to say [attempting Brum accent!] "rooobish"! Blame Zoe! But the accent, I'm not even going to attempt it. I can do the Scottish accent which I speak with my family; I can do American accents no problem and some people say when I'm in east London I have a bit of an east London twang, but the Brummie accent, no.
Q: You've had a busy year with Torchwood?
JB: It's been an incredible year and again it's partially because of the success that the public have made of Torchwood. Torchwood was the highest rated show on digital television in its history thus far. Series 2 will air in January 2008 – we're filming at the moment. Captain Jack returns to Doctor Who in two weeks … I'm living the dream! I'm on cloud nine! It's unbelievable. Just before I came to talk to you today and the reason why I'm a little late, I was doing something for the RAF and I was being flown around the country in a Hawk fighter jet. I saw Britain upside down – it was the most wonderful experience I've ever had. Those kind of experiences I am living because of the success of the shows I'm in, so I'm really really grateful.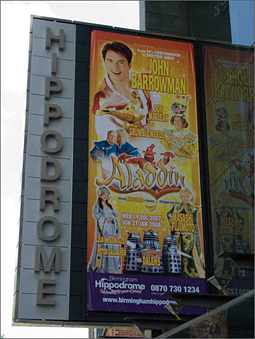 Q: Any other events lined up in Birmingham before the panto?
JB: Not close to the pantomime, because I'm pretty committed at the moment with my filming schedule in Cardiff, that's where we film Torchwood, and the only thing that's really coming up would be the RAF Tattoo that I mentioned which will be in southern England. Otherwise, Birmingham will have to wait 'til Christmas!
Q: Do you have a favourite to win "Any Dream Will Do"?
JB: I do and I'm not going to tell you! You'll find out on Saturday [9 June 2007] when push comes to shove and I have to show my true colours, but those of you who have been watching and following the show will know who I like – and who I think can do the job and who I think cannot.
Q: What is the right shape, right hair colour, the right look for Joseph?
JB: There is no right shape, there's no right hair colour and there's no right look. If you want to go on what Bill Kenwright says is the quintessential look for Joseph, he could actually be of a darker coloured skin and probably from Ethiopia. So I don't know what the quintessential Joseph is – you could be Joseph!
Q: The schedule for the pantomime is two shows a day – how are you preparing for that?
JB: I keep myself in good physical shape – I run, I work out. So I keep myself up on that level so when I have to do that kind of stuff, I am able to do it.
Q: How do you cope with the large numbers of young children in a panto audience?
JB: I actually cope quite well with the kids because I love kids and that's the reason why I've become involved with doing pantomimes. A lot of my colleagues in the West End have said to me, "Why are you doing that? Don't you know you're taking a step in the wrong direction?" I tell them, "Rubbish, I'm not." Because these children will grow up and want to hopefully come and see West End theatre or other theatres around the world and the way to introduce kids to theatre is by pantomime and to do it well and to get them hooked. And also I have a great time. Although I do two shows a day, and it's completely knackering, for that hour and a half that I'm on stage each show, close to two hours, it's an absolute ball, because I'm in control!
Q: Is it daunting for young children going to the theatre for the first time, when the first character they see is someone like the Wicked Witch?
JB: The first person coming on – they won't be meeting the Wicked Witch and the villain in this one. "It's the twenty-first century" as Captain Jack would say, and the twenty-first century is when it all changes, and pantomime is changing. It's interactive now and the audience will start the show, not the villain, because a 3D genie's lamp will appear above the audience, and the audience will be able to reach up and rub the lamp and the genie will come out and they will start the show. This will be the best pantomime in the country.
Q: If you had three wishes, what would they be?
JB: Off the top of my head I would wish for a new President of the United States, and that would solve all those problems, so I don't need to wish for "no war" because that would answer that question. Second wish, again it goes back to children, that every child is looked after and has a home, a good home. And the third wish? If I could be just a little selfish…. no, I can't be selfish, because everything's going really well for me, so I can't do that, my third wish would be to give everybody else one wish in the country. So I'd be divvying my wish up!
Q: You've been a judge, but what's it like to be the one who is cast?
JB: I've done about 16, 17 West End shows in my career and being chosen to do anything, it's kind of a gift in a way. To be told, "Yes, we'd like you to do it" is one of the most amazing things you can hear and particularly now when people are coming to me and saying not "We'd like you to audition for this" but "We would like you to do this" that is really a different thing that's happening to me at the moment. In the last months I've been offered about eight West End musicals which I can't do because of my schedule. I've been offered other telly stuff too, which we're trying to squeeze in. I'm trying to balance it out and that's why I am also doing the pantomime because I love treading the boards, I love being on stage and if I can't fit in a long West End run, I'm going to fit it in elsewhere. What better to do it in a short stint in the best – this is going to sound really corny – the best city in the country! All the Brummies are going "He's got to say that!" but it's the biggest and the best pantomime theatre in the country.
Q: What do you think is the attraction of pantomime for adults?
JB: I believe you should never lose your inner child. Although I'm forty years old, I still feel like I'm twenty-one, twenty-two, and even younger sometimes some may say! But I think every adult should always have that element of child inside them and be able to connect with it and when they come to a pantomime, they should come with the mind of a child. What pains me the most is when I see a parent sitting with their children, sitting crossed-armed and looking up and not getting involved, because their kids copy that behaviour. So if you're going to come and see the show as an adult with your kids, please get involved and show your child a really really good time and how to enjoy a panto.