ROBINSON CRUSOE AND THE CARIBBEAN PIRATES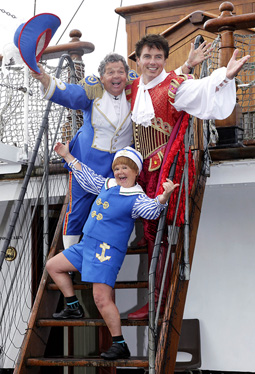 Robinson Crusoe and the Caribbean Pirates runs at SECC Clyde Auditorium from Saturday, 17 December 2011 to Saturday, 7 January 2012.
Book by phone on 0844 395 4000. Please also use this number to book tickets for the disabled platform.
Make a group booking (10 or more) on 0844 395 4010
Press release from Qdos Entertainment, 1 April 2011:
Sleeping Beauty is castaway to make room for John Barrowman and The Krankies at the SECC this Christmas!
Following its five star debut pantomime, Aladdin, last Christmas, the SECC has announced that John Barrowman and The Krankies will make a triumphant return to the stage of the Clyde Auditorium for the forthcoming panto season.
The SECC had been on sale with Sleeping Beauty. However, the casting of the trio means the producers of the show, Qdos Entertainment, have changed the title to Robinson Crusoe and the Caribbean Pirates to allow John Barrowman to play the title role of Robinson Crusoe and Glasgow pantomime favourites, The Krankies, to play Captain Crusoe and Jimmy Crusoe!
The use of 3D special effects in the production of Aladdin was such a hit with audiences that the show's producers are also creating brand-new and even more spectacular 3D which will feature in Robinson Crusoe and the Caribbean Pirates.
"We are thrilled that John and The Krankies are returning to the SECC where they had such a fantastic run in Aladdin last Christmas," said Michael Harrison, managing director of Qdos Entertainment's pantomime division and executive producer of Robinson Crusoe and the Caribbean Pirates. "John's showmanship together with the hilarious antics of Glasgow panto favourites The Krankies, combined with ground-breaking 3D, means that audiences are in for another spectacular SECC pantomime," Michael added.
Ben Goedegebuure, Director of Sales, SECC said:
"Aladdin was the first major pantomime to be staged at the SECC and we were delighted with its success. The news that John Barrowman and the Krankies will once again be taking to the stage at the Clyde Auditorium is brilliant. We look forward to working with Qdos and the cast again and recreating what was a very memorable season for us and our audiences".
Book by phone on 0844 395 4000. Please also use this number to book tickets for the disabled platform.
Make a group booking (10 or more) on 0844 395 4010
Press Reviews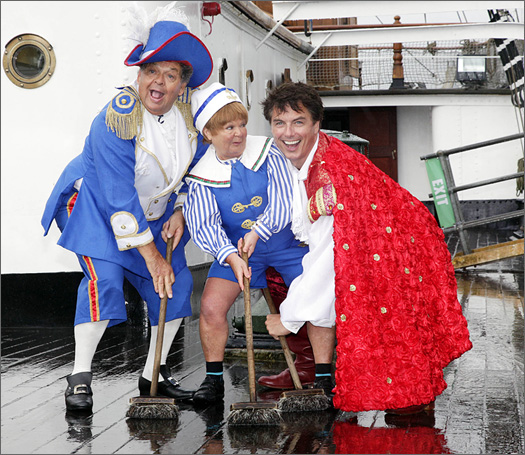 Photos used with kind permission of the SECC