PRESS EVENT - ROBIN HOOD: THE PANTOMIME ADVENTURE, 2008-09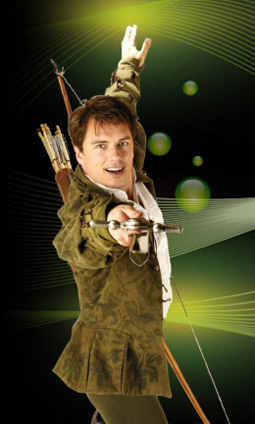 On 3 June 2008, John and Paul Elliott (writer and producer of Robin Hood: The Pantomime Adventure, took part in a Q & A session with members of the press. Paul introduced the session with an overview of what audiences could expect.
Paul Elliott: After last year, which was a fantastic success, beyond our wildest dreams in a way, it really all came together, we were trying to think of ways of doing something a little bit different and yet telling a story. Now the story of Robin Hood is an odd story. He takes from the rich and gives to the poor, and he's in love with Maid Marian, and the Sherriff of Nottingham doesn't like him very much and that's about the end. So we've invented a story also going into the future a bit. We have Titan the Robot, which is amazing, and we have Don [Maclean] and we have the brilliant Paul Zerdin as Will Scarlett. We're bringing back Don Maclean, only this time as a man. I've got to teach him now how to become a man again, which is going to be interesting.
Then we've also got some skaters. The whole stage will become an ice skating rink [at the end of Act One]. We've got Natalia Petrova and Alexei Kalestin, who is a five time Ukrainian figure skating champion and they've done two series of Dancing on Ice, so they are really top-ranking.
The majority of the cast either can skate or will be taught to skate.
There's lot of fighting in it, there's a bit of film at the beginning. We're probably sixty percent towards the script that we're going to end up with. I've had meetings with John and had his input which is terrific. Pete Gallagher is coming back who played Abanazer last year; he's come back as the Sherriff of Nottingham. We've got so many elements in it, which will make it different and give us hopefully the "wow" factor that we had last year.
Q&A
Q: Are you glad to be coming back to Birmingham?
JB: I am glad to be coming back to Birmingham. I was welcomed with open arms here and the people of Birmingham and all the surrounding towns and villages who came to see the pantomime, made it the most successful pantomime in the theatre's history and that I'm deeply grateful for, as is Paul. It means that people still love to come and see panto, so when I was asked to come back and do it, jumped at it, absolutely jumped at it.
Q: Did the city itself surprise you despite the negative press it sometimes gets from the tabloids?
JB: I have no inkling, I did not know about any negativity towards Birmingham because I don't read those kind of tabloids. I came here with an open mind and my mind was put at ease. The city itself is amazing. Everybody I think has a negative thing about the city that they live in; they are going to find something negative about it, but it's a great town, it's got a great big shopping district, the people are friendly. I had a great time here, I really, really did, I cannot deny that!
Q: What was the first pantomime you saw in America?
JB: I didn't see any in America. My first pantomime I saw in Glasgow in Scotland and I think it was "Babes in the Wood" that I saw at the Kelvin Hall in Glasgow and the second one, wasn't really a pantomime, but I saw "Peter Pan" over a Christmas season. I don't have very big memories of it but being British myself, I know about the pantomime tradition, I know how pantomimes play such a huge part in our British psyche, so when I came back I never thought I'd be doing one. When I came back [to Britain] in 1989, I had no idea. If you'd have asked me then would I be doing pantos – no clue. If you'd asked me then that I'd be involved in television, I would have had no clue either.
I was coming back to work in the West End in the theatre and was happily doing that for a long long time but the panto door opened four years ago. This will be my fourth. I enjoy it. I like it because it's part of the medium of performance and theatre that opens it up to children. I think if we can get kids liking coming to the theatre to see pantomime, those are the kids that in the next generation are going to want to come and see the theatre as adults, and bring their own children. I think that's really important that we show that the theatrical experience is not an elitist experience. It's an experience of the people and that's it's opened up to everybody and that's why I like to do [panto].
Q: What have you got lined up between now and the panto?
JB: Oh, you don't want me to tell you! I'm doing my new album at the moment. I go off to Canada to do "How Do You Solve A Problem Like Maria?" for the Canadian Broadcasting Company. I also am doing a show for Discovery Channel in the US and one for Animal Planet because of my love of dogs. One of them is on working animals, cart-horses and something around that realm. I've got another series of Torchwood. Dates are not finalised – well, they are finalised but you know, we're slotting all that in! So there's a lot still to come before I venture into the world of panto-fantasy – no, panto-sparkle! We're going to sparkle big this year!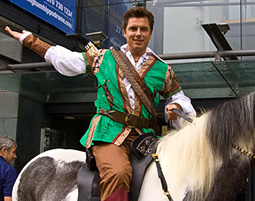 Q: Why do you think Brits do pantomime and not the Americans?
JB: Because they have a sense of humour and they are a little more intelligent [Laughs]. I grew up in the States and the Brits know when to laugh at something. In America, you wouldn't be able to do pantomime, because oh my god, a man would be dressed up like a woman. That's just it in a nutshell. And they're so kind of judgemental in that aspect. Someone would find a reason to protest against the pantomime or burn the poster because the picture of a man dressed as a woman was on it – it would be detrimental to all their children. So that's why I say we have a better outlook on things.
Q: Robin Hood is not a traditional pantomime story. How does this hold up in the pantomime tradition? Where are you going to fit in a pantomime dame?
PE: Ah, well, we've got a surprise for you there!
: All I'll say is, it's not a traditional dame! And the audience will be involved in the process.
PE: They will know that it is a man who is dressing up as a woman, which adds an element as comedy to it.
JB: That's all we'll say! One of the things that Paul and I had a conversation about last year, before we started Aladdin, Paul has this wonderful idea of still keeping the pantomime feel to a show but making them more spectacular. If you noticed with Aladdin last year, there was no stopping and starting, everything flowed, it was like you were watching a cinematic piece. There were no pauses, except for laughs and for all the obvious things. But between scene changes, it moved seamlessly and that was the conversation, because Paul wants to make pantomimes like big shows, spectacle shows, and still having that element of fun and the panto feel to it.
PE: I never want anybody to look at their watch or turn and say "Do you want an ice-cream at the interval?" Because that moment is then lost. They've got to be gripped and go from one thing to another and suddenly, it's finished.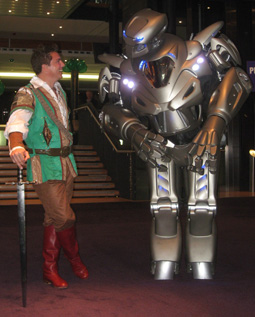 Q: Last year the panto had the Daleks – was that important to you because of the Torchwood/Doctor Who connection?
JB: To be honest, it's not important to me because Torchwood and Doctor Who are two entirely different part of my career from the pantomime. If we can integrate those into something that's fantastic, but we've already done that last year. So this year we have to look at something, and that's where Paul's genius comes in. He rings me on the phone and says "We've got this amazing robot!" And I'm thinking it's a guy just dressed up in a costume, not that's like this actual robot that's programmed and can do all these amazing things. So you have to think of that, in terms of entertainment value. It's like when I do a show, I always think of how am I going to do something that is going to be slightly topping myself from the last time. And we have to think of that this year because the audience who came last year are going to hopefully come back this year and the way ticket sales are going, it looks like they are, they are going to want to go "Wow!" and they are going to go "Wow!" when they see Titan and also when they see the twins, the illusions we are involved with. I'm quite nervous about one of them because I'm in the middle of it – chop, chop [laughs].
And Paul Zerdin, the ventriloquist, that is going to be amazing. All I'll say is that the puppet that he uses, sometimes he's on stage with it, and other times he may not be, but the puppet still talks.
Q: Where do you get your energy from?
JB: So many people ask me that! If I could bottle it and sell it, I'd be a very rich man! But no, you know what, I thrive on doing what I love to do. Paul's seen me off-stage and by myself, but I still have energy.
PE: Immense...
JB: But I know how to chill out. When I'm in a situation when I know people want to be excited, want to be entertained, want to feel good, that's what I'm here to do. I know that. I've known that from a very young age and that's why I do what I do. I've been put on this planet to entertain. There's nothing that makes me feel better than seeing people laugh. Seeing kids laugh. Seeing people go out happy or coming up to me and saying, "Can you sign this, we loved the show." I love that, I love every aspect of it. That's why I'm excited. That's why I've got energy.
Q: What do you do to relax?
JB: I watch television. One of the best ways I like to relax is to just go home, sit with my partner and the dogs, put my feet up, have my feet scratched and watch telly! Normal! You wanted me to say I go to some big party – no, no! A lot of the time when I'm travelling I sleep. I love being on aircraft. I'm not a fan of flying but I love being on aircraft because nobody can bother me. And I don't mean that in a bad way, I mean my manager, my mum and dad, you know people ringing me and there's no way that I can be contacted, so I can sleep. Actually, my manager says to me, "You've got an eight-hour flight, sleep." So that's when I relax.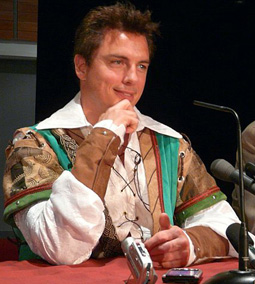 Q: Robin Hood is a brand new pantomime, written especially for you. Does that make this one more special than the other pantomimes you've done?
JB: Of course it does!
PE: We adapted Aladdin for John. There will never be a version of Aladdin like that, anywhere else. That was specifically for here and for John. Similarly this one is very particularly for John and the other people that we've got. I kind of write around to get the best out of everybody, hopefully. It's a bit dangerous, which is nice, writing a new pantomime. You're never quite sure – it's like throwing yourself off a cliff when you're not absolutely sure whether that parachute's going to open. That's what's the fun of it. That's why I've got that kind of enthusiasm and energy like John, to make something different happen, so that the audience go "Oh wow!"
JB: And let me tell you in this one, we go on a journey.
PE: Do we ever!
JB: We go to places – you go "Okay!" Last year we said, "Follow that dream, wherever that dream may lead." This year you are going to follow the story, because this story kind of goes in all different places and remember, it's a pantomime, it's fantasy and that's where we're taking you, on a fantastical ride through the forest and … other places [laughs].
PE: We're keeping a lot from you on this one!
JB: I don't know if I'm allowed to say! Camelot – we go to Camelot – and after Camelot we find an ice rink! That's what's great about Paul, it's written, as he adapted Aladdin last year, to my strengths and that, as a performer that is one of the great things, working with someone like Paul because I know he's going to have my strengths and best interests at hand.
PE: I think you sing more in this don't you? I just felt last year we needed a couple more songs, so we got 'em.
JB: Just to knacker me out a little more!
PE: I went to see John's concert – it was absolutely sensational.
Q: How easy or difficult is it for you to immerse yourself in a character? On the Paul O'Grady Show you said you had to shoot the final part of Torchwood in one take?
JB: It's not so much that you are immersed in the character, it's because it was emotional. I don't talk about them really as characters. I talk about them as me. I don't like to analyse it or look at it because whatever I do, if it connects with an audience it must be working. What I tend to do is make it so truthful to myself that I actually put a lot of myself into it, so although Captain Jack is a character, there's a lot of John in Captain Jack. And although Aladdin was a character and Robin Hood is a character, there's going to be a lot of John's personality in those. Like with that last sequence in Torchwood, the reason that we couldn't do more than one take is also because we were losing people that had become family members to us as cast members. To be honest with you, in the theatre world we work with people and it's very rare like this year we come back to a show and we have people that we worked with before. You might not see them for ten years. So that was why that was so emotional, but I used that emotion to help get the story across and I guess it worked.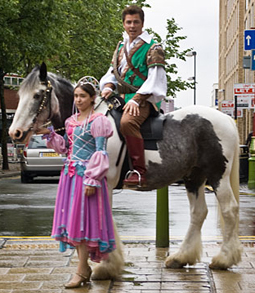 Q: Robin Hood – saint or sinner?
JB: Oooh, I don't know yet. He's a saint in my book! Even if I'm playing a bad guy, I never look at them as a sinner. Yeah, Robin's a good guy.
Q: David Tennant is doing Hamlet. Are you planning to move into serious theatre in the future?
JB: I have done stuff at the National. Funnily enough, David's doing Hamlet and Love's Labour's Lost – I've already done Love's Labours Lost. I did that at the National Theatre [in 2003]. Every medium of theatre is serious to me, whether it's comedy or musical or what people see as being a straight play. The shows that I have been involved with, Joseph, Maria, and Nancy and Oliver with the BBC, we took a bit of a hit on the chin from a very prominent theatre director, head of a theatre, Kevin Spacey, who was voicing his opinion about those shows.
Sometimes I think we as musical theatre performers have been – excuse my French – booted up the butt too many times by people and it's time that we stand up for ourselves because our shows in the West End are the ones that sell out the theatres and allow producers to do plays. So we get told that we're not serious and all that. I would love to do a play. I did Rope at the Chichester Festival Theatre with Anthony Head and Alexis Denisoff and I absolutely loved doing that. So it's another facet that I would get into, but being on television dramas, that's kind of where it's going for me at the moment, and with other stuff on the Beeb. So who knows – I'll keep that card wide open.
Q: You seemed pleased that Jodie Prenger won "I'd Do Anything". Why do you think she was the right person for the role of Nancy?
JB: As I said all along, Jodie has the ability to entertain an audience. I don't know any of you saw "Loose Women" this afternoon, but she absolutely handled it beautifully. She's eloquent, she's a character, she has a great singing voice, the people love her. Throughout the whole course of the competition, the difference between her and Jessie [Buckley – the other finalist on "I'd Do Anything"], Jodie was like a shark, who was swimming and every time we told that shark to fix something, or move a different way, she did it. She swam a little different way but she still had that thing in her vision, that prize at the end. Whenever we gave Jessie criticism, she was like a fish that was flopping out of water, just didn't know how to deal with it, and got very emotional and upset. Now for me, as a leading man, if I were performing next to a leading lady who was coming out and not hitting a home run every night and was confused and didn't know what to do and how to do it, it would frustrate the hell out of me.
So I saw in Jodie – which the audience did also – that at the end of this programme, we don't care if you've got six months to work with somebody and turn them into something else, the audience wanted to see a finished product on that Saturday night. And that finished product was Jodie Prenger, and they got a woman who could get up and do Nancy that very next morning. So that's why I've stuck by her all the time. She was a brilliant worker, a hard worker and it's what that show is all about. It's about giving someone an opportunity that they would never have. She's a girl from Blackpool who was trying to make it in the business and everyone just kept shutting doors to her.
Q: Other judges including Sir Andrew Lloyd Webber preferred Jessie. Would you have been disappointed if Jessie had won?
JB: No, I'd have been ecstatic if Jessie had won also. After I had given my opinion, I had to let it go over to the audience. That's why Denise [van Outen] and I sat there and allowed the audience to make the decision while the others still bantered on about it, so I'm completely happy with the decision. And if Jessie had won, I'd have been happy with that. She would have been a little bit more of a risk.
Q: Will you be skating in the pantomime?
JB: Yes.
Q: Do you have any tricks prepared?
JB: No! Not yet. I can't answer that yet. Remember I'll be doing two shows a day for approximately two months – seven weeks – I cannot injure myself. So I will be skating, but don't expect to see me flipping!
PE: And singing at the same time.
JB: And singing!
PE: And juggling with live geese!
Q: You have recorded a lot of music by other people. Have you ever considered writing your own music?
JB: I am not talented in that way. That's not one of my talents and I am quite honest about that. I am not going to delve into that. I've co-written songs with people. One of the songs on the new album has been written by Gary Barlow and one by Keith Urban, who is a country and western singer, so no, that's not me. Maybe in ten years something'll spark and I'll do it, but no, I'm not a writer. That's also why I had my sister help me write the book.
Q: Will Robin Hood be aimed at children or adults?
JB: That's the beauty of pantomime. There will be things that will go right over the kids' heads. And that's also where Paul as a director is wonderful because in rehearsals, he will let us go to the edge and then he'll think about it and say, "Okay, let's see how it goes when we get people in to see if it works" and if it doesn't, we take it away. But I also know from doing stuff, how to play that kind of double entendre, just with a look, you don't have to say anything. You just do it with a look and adults know exactly what you are thinking.