Children in Need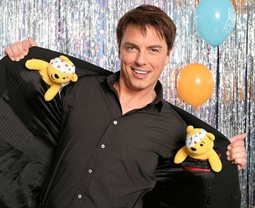 BBC Scotland
Children in Need Rocks Scotland
19 November 2010
BBC1
Children in Need
20 November 2009
BBC Wales
Children in Need (Cardiff)
14 November 2008
BBC1
Children in Need
16 November 2007

John has been a regular supporter of the BBC's annual fund-raising event, Children in Need, performing in and hosting the show over the last few years. He first appeared on the show with the cast of Anything Goes in 2003.
Children in Need Rocks Scotland (2010)
John co-hosted Children In Need Rocks Scotland on 19 November 2010 with Jackie Bird in front of a 3000-strong audience at the SECC in Glasgow. Part of the concert, which featured Alexandra Burke, McFly and The Wanted, was broadcast on BBC1 as part of the nationwide Children in Need coverage. Another highlight was a special Tonight's The Night surprise for two young ladies who met Daniel Radcliffe and Emma Watson, the stars of the Harry Potter series of films.
After the show, John's unique sparkly spotty suit was auctioned for Children in Need and was sold for £5,350.00.
Children in Need, London (2009)
John's performance in the 2009 show - a take on Tom Cruise's table-leaping, boxer-shorted song and dance from the 1983 movie Risky Business - has gone down in Children in Need legend as one of the Top 50 moments from the history of the show. John also presented a cheque for more than £18,000, collected from La Cage Aux Folles audiences, and auctioned a billboard from the show, signed by all the cast.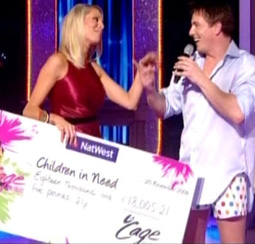 Children in Need, Cardiff (2008)
John also co-hosted Children in Need with Gethin Jones from The Millennium Centre, Cardiff, on 14 November 2008, when he performed his single, "What About Us?", interviewed fundraisers and introduced the performers.