TORCHWOOD COMICS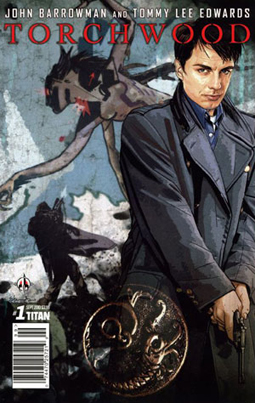 Captain Jack and the Selkie
In 2010, John and Carole teamed up with Tommy Lee Edwards for their first comic book venture, Captain Jack and the Selkie. This original story sees Jack facing a deadly threat on a remote Scottish island, where people are disappearing one by one. To his horror, Jack starts to suspect he may know who, or rather what, is responsible.
Torchwood: World Without End
John and Carole returned to the Torchwood universe in 2016 for a series of stories which retain continuity with the Big Finish Torchwood audio dramas. Captain Jack Harkness returns to Cardiff and teams up once more with Gwen Cooper. On the road, on the run, and under fire, they must try to put aside their differences to rebuild Torchwood.
Torchwood: Station Zero
The third of John and Carole's comic series, Torchwood: Station Zero was released in February 2017, with Jack and Gwen set for their ultimate adventure! The Torchwood team-mates find themselves boarding the boat, the Ice Maiden, last seen in Exodus Code as they search for an alien intelligence who may have connections to Jack's past. Torchwood is under attack, the world is in danger - will Jack and Gwen be able to save humanity as they seek the truth?
Torchwood: The Culling
Having defeated an alien invasion in the Arctic, Jack, Gwen and the rest of the team find they missed a mysterious pod, buried under the ice. The pod holds a seemingly familiar face. Now Captain Jack must battle his worst nightmare - or his greatest daydream! Released 18 October 2017.
John and Carole's Torchwood comics are available from Titan Comics: