JOHN - A PATRON OF CRY SINCE 2010
4 November 2011: John met up with Antony and Halina Reid after his concert in York. Their son, Tom, was a fan of John's and went to see him at a book signing in 2008. Tragically Tom died in 2009.
John first met Antony and Halina in 2010. When he heard their stories about Tom, he was so touched that offered to become a patron of Cardiac Risk in the Young (CRY).
This is John's message, from 2010, explaining more about Tom and also why he offered his support to CRY:
"I met Thomas Reid at a book signing a while back. We chatted for a few minutes, shared a joke and a laugh. Tom was 19 and funny and full of life and last year he died. Tom was a healthy young man, but, one night, when he was out with his friends, he suddenly complained that his heart was beating very fast and that he felt ill. Tom collapsed and the hospital emergency staff could not resuscitate him. Tom died of a little known condition called Sudden Arrhythmic Death Syndrome (SADS).
While I've been on tour, you've been leaving gifts and cards for me at the stage door and I love that you care about me so much to do this. But I would like to ask that instead of gifts for me, how about supporting a charity that's working to stop young men like Tom dying from this syndrome?
The organization, Cardiac Risk in the Young (CRY) is working to raise awareness of conditions that lead to Sudden Arrhythmic Death Syndrome (SADS). It would mean a lot to me if you'd send this worthy cause a donation instead of buying gifts for me."
4 November 2011: Tom's parents, Antony and Halina Reid, meet John after his concert in York
31 October 2010: Tom's parents, Antony and Halina Reid, meet John after his concert in Blackpool
2008:
Abi and Tom were really excited to meet John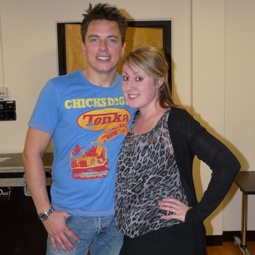 2011:
Abi meets John in York