DOGS TRUST HONOURS 2012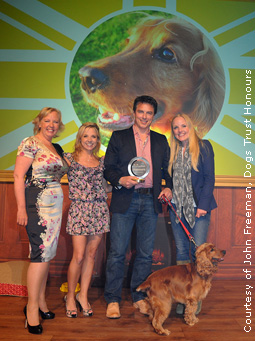 21 May 2012: John's cocker spaniel Charlie, who was rehomed from Dogs Trust Bridgend, was the excited recipient of the "Media Mutt of 2012" award at the Dogs Trust Honours 2012. John is a long-time supporter of the charity and he and his fans continue to raise funds to support their work.
Deborah Meaden, from BBC's Dragon's Den, was a judge for the event and a host of celebrities also attended with their canine friends.
The photo on the right shows John and Charlie with the award, with (from left to right) Deborah Meaden, children's presenter Sarah Jane Honeywell and West End star, Kerry Ellis.
After the ceremony, Charlie was congratulated by Oreo (from Dogs Trust Harefield), shown below right with John and Deborah.