Time for the next in our series of newsletters to update fans on what's been happening in Barrowman-world!  He's not been taking it easy, that's for sure!

2010 tour
John has just completed his 24-venue sell-out concert tour, in which he covered hundreds of miles across the UK, by road, rail and air in just 33 days. The audience reaction has been absolutely amazing everywhere that John, his J4 dancers (James, Jamie, Jenny and Kate), his musical director, Matt Brind, and the eight-piece band performed.
2010 tour DVD
If you missed the concert tour, don't worry. You can enjoy all the emotion, fun, passion and energy of the London concert on the DVD "John Barrowman Live At The Royal Albert Hall". The DVD is available in two formats - PAL (Europe/Australasia) and NTSC (North/South America, Caribbean, Taiwan and Japan).  Both formats are region-free (Region 0). The PAL version is due to be released on 15 November and the NTSC version will be released on 22 November.
There's also a very special collector's edition box set, containing both the 2009 An Evening With John Barrowman and the 2010 Live At The Royal Albert Hall DVDs, plus a 12-page booklet with never-before-seen photos of John. This special edition will be available exclusively from ASDA or ASDA Online.
If you'd like a taster of what's on the DVD, there's a promo video on our You Tube channel:
DVD Signing Events
John will be doing three DVD signing events to promote the DVDs. These are always very popular and, although John always tries to sign for everyone who turns up, his schedule means he has to leave at the time specified, so please get there early to avoid disappointment.
Sainsbury's Merton
17 November 1.00-2.00pm
1 Merton High Street, London SW19 1DD
ASDA Glasgow
18 November 1.00-2.00pm
Scott Macaulay, 1300 Duke Street, Parkhead Forge, Glasgow G31 4EB
ASDA Cardiff Bay
22 November 1.00-2.00pm
Ferry Road Retail Park, Cardiff CF11 0JR
Competition
To celebrate the launch of the special concert DVD box set and exclusive photo booklet (available only from ASDA), Lace DVD and ASDA are giving fans the opportunity to win some great prizes including signed posters of John, copies of the special box set and, for UK residents, £200 of Asda vouchers! 
The competition has two sets of prizes, one for UK residents, and one for non-UK residents
Closing date is midnight GMT on 31 December 2010.
Upcoming TV appearances:
9 November

John will feature in part one of the two-part Children in Need 50 Top Moments, BBC3.

16 November

Part two of the two-part Children in Need 50 Top Moments, BBC3

Guest on This Morning, ITV1
The Steve Wright Show, BBC Radio 2

19 November

John hosts Children in Need Rocks Scotland on BBC1 (Scotland)

25 November

John returns to QVC to help you with your Christmas shopping

26 November

Guest on Strictly Come Dancing: It Takes Two, BBC2

25 December

Strictly Come Dancing Christmas Specia, BBC1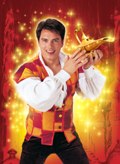 Pantomime
There's still time to buy tickets to see John starring in Aladdin at the Clyde Auditorium, Glasgow from 11 December 2010 until 9 January 2011.  Not-to-be-missed, this is a fabulous panto with amazing 3D effects.  
Torchwood
After panto, John will be filming the new series of Torchwood in the US and Wales. He's thrilled that Captain Jack is coming back!  Fans can see the new series, "Torchwood: The New World" on the US Starz network and BBC1 in the summer of 2011.
John is now a patron of CRY
John recently met Halina and Antony Reid, the parents of Tom Reid who was a big fan and who John met at a book signing last year. Tom tragically died of Sudden Arrythmic Death Syndrome (SADS) at the young age of 19. Antony and Halina are raising money for the charity Cardiac Risk in the Young (CRY). John's fans helped them to meet their initial target of £10,000 so CRY could continue their work and start screening young people for heart conditions. John has since offered his support as a patron CRY to help raise awareness of conditions that lead to SADS. 
Get news, exclusive offers and talk to other fans on our mailing lists
We have some raffles and competitions, exclusive to news group members, coming up. If you don't want to miss out on these, join the official news group:
If you're not already a member, you can also join the Official Talk Group and discuss John's appearances:
Don't forget to follow John and the team on Twitter!