AN INTERVIEW WITH GAVIN BARKER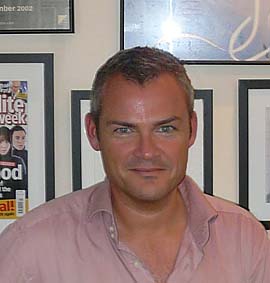 Gavin Barker is a hugely successful theatrical manager and agent with a client list that includes Oscar-winning actors, comedy cabaret artistes and multi-talented entertainers.   The JB.com web team recently had the opportunity to chat with Gavin at his central London offices.  Over tea and chocolate biscuits (of which he is very fond!) and surrounded by framed pictures of his famous clients, we found out more about his eclectic career – and what the future holds!
JB.com:  How did you first get into showbusiness?
GB:  I came from a background which is very unshowbizzy, being  brought up in the countryside of West Kent/East Sussex. I had a passion to perform which first materialized as a choirboy when I was about 8 years old, and then I got into local shows and from doing local shows I got hooked into dancing and started training locally.   I progressed and went into full-time training.  From there I worked as a dancer in musicals!  I did that for about five years.

JB.com: What shows might people have seen you in?
GB:  42nd Street, Me And My Girl, I worked at Leicester Haymarket a lot and  did Chicago there, and The King and I.  My forte was tap – tap was what I really loved.
JB.com:  How did you then get into management?
GB:  I got to the stage where I knew that I wasn't getting out of it what I wanted any more and I knew that I wanted to work in the business somewhere.  What I wanted to do was casting.  A very old friend of mine, who came from my area was a guy called Andy Pryor and I knew that he had gone from stage management and had got into casting.   I wrote to every single casting director in our book of contacts – Spotlight – and every casting director wrote back and said you need to really work with actors first, you need to work for an agent.  Once you've worked for an agent you would understand how it all works and then you can come and work for us.
So I then wrote to every agent!  I was offered two jobs, one with James Sharkey who was one of the top agents in the country.  I started with James Sharkey Associates in April 1994, the same day as Michelle Burke [my associate at GBA].  When I first started working with him I particularly looked after Michael Ball and Elaine Paige.  I assisted him because they were his big clients who, similar to John, had the sort of career which took them all over the place.
Michelle looked after the actors like Vanessa Redgrave and Timothy West.  We worked with James for about four and a half years and then he retired and I set up Gavin Barker Associates on 1 July 1998 with Michelle.  A lot of people we had worked closely with came over with us, so we had that continuity.  It's just grown from there.
JB.com:  Who was your first client?
GB:  I have to say my first major client was Michael [Ball].  He had his TV show – he did two TV series and a Christmas Special on ITV and that was my learning ground.  I was at TV studios all the time with him.  You were meeting Cher one day and Take That the next, and Shirley Bassey and James Brown, all those major stars.  I'd been a jobbing dancer touring the country and the next thing I know I'm there with Cher.  It was just amazing!
My favourite was Dusty Springfield.  She did a Christmas Special with Michael.  She was one of those people who had actually gone out of her way to find out the name of the assistant and speak to you.   She was lovely.
JB.com:  A number of fans, including Alex in Leeds and Sue in Atlanta, would like to know more about how your relationship with John started.
GB:  He had been in America doing TV shows and theatre, and Trevor Nunn had invited him to come back to the UK where he hadn't worked for a  couple of years.    I said to somebody I know who worked at the National Theatre, "Who is his agent?"  She said "He's not with anybody here in London now", so I wrote him a letter.  It was the week before Christmas 2002.  I wasn't expecting to hear anything and then suddenly the phone rang and it was him.   He said, "I got your letter. It sounds great, let's meet up."
We met up at the beginning of January 2003.  We had lunch at One Aldwych because he was rehearsing Love's Labours Lost [at the National Theatre], so he could just walk over Waterloo Bridge and meet me for lunch there.  It was a freezing cold day and I remember he turned up in one of these big Puffa jackets with a beanie hat on.  He was in a foul mood.    He walked in and said, "I am just so pissed off!"  He had said that he wanted time off to come and have this meeting with me, he'd been told he could have it but was then told at the last minute "No you can't."  He actually said, "No, I've been given permission and I'm taking the time off and that's it!" and left to come meet me.  From that moment I knew we'd get on - his refreshing honesty and his tenacity were exactly what I liked, and how I worked.
JB.com:  Hollie in Denmark, Wisconsin, would like to know what has been your most memorable experience during your years of managing John?
GB:  Can I have a couple?  I have to say Tonight's The Night was really exciting because that was a great sense of achievement.  That was a really big stepping stone for us both, and a dream come true for John.
Probably walking around the garden of Highgrove House and him going off and having a pee in the bushes and very nearly setting off the alarm and causing a security scare!
What was absolutely beautiful was seeing him standing with Beverley Holt as she was introduced to Charles and Camilla and seeing his music teacher from his school back in Illinois have that experience.  That was a magic moment.
When Stuart and I were in LA on honeymoon John and Scott turned up unannounced  and we had a mad day with them and we just drove around all day having a laugh.  That was huge fun.
Oh, and seeing him come down an escalator the wrong way in Munich Airport doing a Cher impression – that has to be it!
JB.com:  At the Royal Albert Hall, you had three of your clients performing.  How did that feel?
GB:  It was a very proud night for me and I was thrilled to see them all up there - however,  I was absolutely knackered!   It was the end of a very very long tour.
I remember being in John's dressing room at the end and his Mum and Dad coming in and his Mum saying, "John, you've just played the Royal Albert Hall!" and bursting into tears.  That was really really lovely.  A really special moment to witness.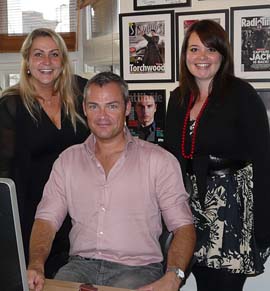 JB.com:   You have an extensive portfolio of clients.   How do you balance John's busy schedule with your work with your other clients?
GB:  Firstly I am an out and out workaholic, which helps! I also have a really fantastic staff.  Michelle and I have worked together for over 15 years now and we have a great system in place.  I look after what we call in the business "TV talent", that's people like John and Craig [Revel Horwood], Jodie [Prenger] and people coming up like Ben Ellis and Danny Boys – people who have profile that we are building up.
Then I look after the creatives, like Matt Brind who is a musical director and arranger, Larry Blank who is a conductor.  Michelle concentrates more on the actors - Vanessa Redgrave and the people who work regularly on television and theatre.   Steven, who is my assistant, assists me with my work, particularly with the comedy group Fascinating Aida, but he also has a group of young people he looks after.  Katie is in charge of making sure the office runs smoothly, which she does brilliantly.
We are in an open-plan office, so we all know everything that's going on and it  works!  There are people who have been with Michelle and I from the beginning and that's lovely.
JB.com:  What is the most stressful thing about running a theatrical agency?
GB:  The most stressful thing about running an agency - and this is particular to managing a talent at John's level - is actually what I am going through at the moment - balancing all the balls in the air.  We are in recommission limbo with Tonight's The Night, with Torchwood, with The Wizard of Oz (which we know is happening but we still don't know if we're involved or not).  It's that moment where you are going, "I can't do anything, because I can't move on this, because of that and if that moves and I make a definite decision on that, then what about that and then there's this...".  And that doesn't take into account new things coming in.  I love it, but it can be stressful when you just need answers.  Fans LOVE to have the information on what John is going to be doing - and I quite understand why - but so many times things aren't 100% confirmed because of a variety of scheduling issues, and then rumours get out, and fans get upset because they feel they've not been told!   It's a minefield......!
JB.com:  Michele in Phoenix, Arizona, would like to know how you get John to do something he doesn't want to do, but you know that it would be good for his career?
GB: What you never do is tell somebody, "You should do this because…" ever.   And that applies not just to John but to anybody.  You always play Devil's Advocate in every scenario and say "These are the reasons why and these are the reasons why not".    With anything that comes along, you give them the whys and wherefores.   That gives them the opportunity to go away and think about things in a balanced way.
JB.com:  Iris in Berlin asks, "How do you cope with all the fanmail?"
GB:  Well, I never see it!  It goes straight in a pile and is sent to Rhys [John's PA], so I don't ever see it.   In the old days I used to, but not any more.
JB.com:  Do you handle fanmail for your other clients?
GB:  They mostly have PAs.  Fanmail is forwarded to them.  It's a full-time job!
JB.com:  A question from Andrea in Moscow, Idaho:  Sometimes things change and schedules need to be changed.  What is your worst 'the schedule is screwed' nightmare story?
GB:  My worst scheduling nightmare was I'd booked Paul Nicholls on a movie, completely overlooking the fact that he had an option for a second series of City Central, which was the police series he did for the BBC.  The BBC actually came through the next day taking up the option!   Talk about break out into a cold sweat - I don't quite know how I got out of it.  I do remember the Head of BBC Drama shouting at me!
The worst John scheduling nightmare?  We've always made everything work!
JB.com:  Sato in Kawasaki City, Japan would like to know what made you decide to set up Barrowman Barker Productions and who designed the BBP logo?
GB:  When you get to a certain level of TV profile, you need to be able to have more control over what happens because if you don't, then you end up having to editorially do what the broadcaster or production company are telling you to do.  You don't have any say in it.   With John being at the level he's at, we wanted to be able to have that extra bit of control.  Even if you have a star going into a vehicle which is all based around them, ultimately you have no editorial control.  If you do it as a co-production with your own company, then you have some control and some say.
For the logo, John and I originally wanted something to portray strength, and we came up with the idea of a man flexing his biceps.
We couldn't make it work, so between the two of us, we thought why not go literal! For Barrowman we would have a hot gardener type pushing a wheelbarrow - for Barker, we would put a dog in the barrow.  Nothing wrong in stating the obvious!  A friend of Scott's is a designer called Peter Ellis and he did the design for us.  The dog is based on a stray puppy that Stu and I met on holiday in Greece - we'd steal food from dinner and go feed him every night.  He was such a character.  Of course I wanted to bring him home in my suitcase, but as that wasn't possible, this was a good way to immortalise him.  Dogs are a very important part of my life - Stu and I have a shar pei called Wesley who is like a child to us.
JB.com:  Beverley in Hertfordshire asks whether you see BBP being involved mainly in shows like Tonight's the Night or are you going to expand into drama and other areas?
GB:  So far we've done Tonight's The Night and we're involved in the DVD of the concert.  We were involved in the production of the concert as well, and we've got a couple of other things we're developing.  I think our strength will be entertainment and documentaries, that type of thing.  Drama is a different world.  It involves so much bigger-budgets, so much more all-encompassing. I'm not saying we wouldn't do it, but it's not top of the agenda.at the moment.
JB.com:  Are you actively seeking projects for the company?
GB:  We go and talk to lots of independent companies and work up ideas with them.  One of them is Cineflix, the company John makes Animals at Work with, and we've got an idea with them which we are hoping to get off the ground next year.  Cineflix are based in the UK, Canada and America  and we're thinking of doing something with them in Canada which we could then do in the UK as well.
We're talking to some other independent companies too - we work up ideas and then we go and pitch them to the broadcasters.
JB.com:  When you are there as producer, is your relationship with John different?
GB:    On Tonight's The Night, when he is the talent as well, I am working there with two heads on, I'm there as his manager protecting him and I'm there as co-producer with the good of the show as my priority.  Sometimes there could almost be a conflict of interest between my position as producer and my position as manager. There are certain things they are going to say "We don't want him to do that" when I know he wants to do it, and then I have to look at it with both heads.  John is strong willed but is always prepared to listen to reason, and quickly moves on if he can see why he's been asked to do something in a certain way.
The wonderful thing about John is that he has this enormous energy and this great capacity for ideas.   Not all the ideas are right (he'd be the first to admit that!), but then he comes up with this gem of an idea - brilliant, really really good ideas sometimes.  It's capturing those and running with those.
To be totally honest, on the producing side, I suppose I do do most of the work because he's there as the talent and has to focus 100% on that.  I am the go-between with the other producers, I see their points of view, I hear what they're saying, I can express that to him and we can move forward that way.
JB.com:  What is the difference between the role of agent and manager?
GB:  An agent is somebody who spends the majority of their time in an office, talking to people on the phone and doing deals; a manager is out with the talent, you step up a lot more as a manager.  As a producer, you're in a completely different role because you're privy to all the budgets and you're making decisions on how much it's going to cost and what you are going to use and how you are going to use them, which a manager would never be involved with.
JB.com: What does producing involve?
GB:  Just about everything!  Producing in television involves coming up with the ideas, working out how you make those ideas work, how much it all costs, working out budgets, and then just making sure that everything works.  Editorially, with a director and an editor, working out what actually looks best.  A producer oversees every aspect of a show.
JB.com: Katherine in The Wirral would like to know how you would describe your perfect Sunday morning.
GB:  I've never been a big "lier-inner" ever! I would get up, I would have my breakfast (my favourite meal of the day - especially in the US) with copious amounts of coffee watching back something like X-Factor or Strictly and then taking the dog for a walk, or go horse riding.
JB.com:  Do you have your own horses?
GB:  I don't.  I used to - I grew up with horses.  Where I live in the country, there are places nearby where I go riding.  When you're a workaholic like me, you need something to take you away from what you are doing.  I go to the gym a lot but that's part of my daily routine.  Riding is what I love.  Riding and being in the country, because I'm a country boy.
JB.com:  You mentioned Strictly Come Dancing – who are you supporting?!
GB:  John and I are friends with Rav Wilding, but unfortunately he didn't last. So now I'm kind of easy - as long as it's someone who is a truly talented dancer who wins, I don't mind.
JB.com: What did you think about Alesha replacing Arlene as one of the judges?
GB: I think that the negative press was really unfortunate towards Alesha, they made it out as if she had sacked Arlene.  It wasn't her fault.  She wasn't brilliant, on her first show, but nobody's brilliant in their first few shows.  I think she's probably underqualified but she brings a different aspect which they've never had before – "I've been there, I know what you're going through."
JB.com:  Are there a lot of young performers coming up who you think you'd like to have on your books?
GB:  Steven, my assistant, is the eyes for that side of things.   Jodie was a wonderful person to pick up.  In the old days, I used to go to drama schools and see all the productions.  Then you'd have this big bunfight because there'd be two good people and everybody wants them! I don't have the time to do that on a regular basis these days.  I'm interested in careers like John's - multi-faceted - like Jodie's will become.  Like I did with Craig.  Craig was with me for years as a choreographer, choreographing musicals and operas and then he got Strictly, which opened another whole life for him.
Also, I don't specialise in any way.   My client list is exceptionally eclectic.  You have somebody like John who's a massive star, somebody like Vanessa Redgrave, an Oscar-winning actress, then you have Fascinating Aïda, who are a comedy cabaret group.   The thing that I've always been really passionate about is musical theatre, because that's where I came from.  The TV side I've got really passionate about, entertainment and producing.  I love the live tours and the recording career.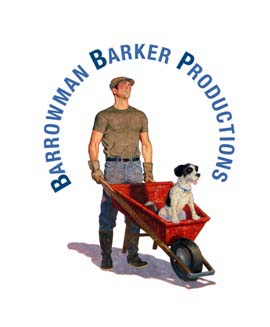 JB.com:  What do you feel is your proudest achievement so far?
GB: I think it has to be Barrowman Barker and then to get Tonight's The Night – yes, I think that's probably my proudest achievement.
JB.com:  Do you miss performing?
GB:  Never!  Absolutely never!  I remember I'd been working for James Sharkey for about a month and I was down at the TV studios doing the Michael Ball show and there was James Brown.  There I was in the studio with this massive American star and just thinking, if I was still doing what I was doing I would never have had the opportunity to come and do this.  Chicago at Leicester Haymarket?  Then that?  It was different worlds!  So I don't miss it one bit, but the great advantage of having done it is that I do understand what they go through. I do understand how they feel.  I do understand the process, which is really good.
JB.com:  You once mentioned you'd like to have done backing vocals?
GB:  Yes! I love the BVs!  From a young age, I've loved BVs, I always have.  I was watching Barry Manilow at Proms in the Park, standing in the wings before John went on, watching the backing singers and thinking "Fantastic!  I love it!"  That was one thing I'd have loved to have done.

JB.com:  Dimi in Milton Keynes wants to know what was the best party you have been to?
GB:  Neither John nor I really like showbiz parties.   We're usually the first ones to leave! You know my favourite thing?  A night in with my feet up!
I think probably I'd have to say that the best party I ever went to was the premiere of Mission: Impossible.  Michelle and I had dinner with Vanessa Redgrave (who was one of the stars of the movie) upstairs at Harrods with Tom Cruise, Nicole Kidman, George Clooney and Jon Bon Jovi.   We were in the exclusive private bit and I clearly remember other celebs not being allowed into our area - quite odd to walk past and see the Gallagher brothers from Oasis being kept  back.
JB.com:  Hazel from Lincoln asks whether John has ever played a prank on you?
GB:  All the time!   Last Sunday he sent me 17 texts talking about XFactor, going back and forth, just being stupid.  He's a lovely friend.  He is one of the most generous people you'll ever come across, and does the loveliest things.  He has this boyish enthusiasm.  My Stuart always says when you spend time with him it gives you that feeling that you can do anything and achieve anything!   The friendship is something that is so very special to us both, we're really good mates and there for each other.
As for pranks, he phones up and pretends to be somebody else on a frequent basis!  And ALWAYS catches you out.....
JB.com:  Tell us about Ballgate...
GB:  There are two things to say about Ballgate.  John did make a mistake and he's well aware that he made a mistake.  However, the reaction to what he did was ridiculously overplayed and if it hadn't have been for the Andrew Sachs/Jonathan Ross thing, I don't think anyone would even have noticed.
I felt bad because I go with him to most places and on that Sunday last November I had gone with him to pre record the Elaine Paige radio show in the morning, and then there was a big gap before he was due at Radio 1 in the evening.  Joe Bennett, who is our radio publicist, said, "You don't have to come back in - go home and have a Sunday."   John said it was fine, he was going out to dinner with Scott afterwards and he would be with him.  So that's what I did - and I was listening to it all unfold from the comfort of my sofa.
It was at a really crucial time with Tonight's The Night because we were in the process of getting the pilot commissioned.  I had the chief commissioner of BBC Entertainment phone me up and absolutely tear me apart and I had to take it.
It was a deeply stressful week and John got into a real depression.  We sat in the office in Radio 2 planning that week's Friday Night is Music Night concert with the producer Jodie Keane, the conductor Larry Blank, Matt Brind and Joe Bennett  and John was trying to sing and he just couldn't.   It was heartbreaking - it had affected him physically so badly.
JB.com:  To what do you attribute John's success with the BBC?
GB:    He is unique. There is nobody else in this country like John.  There is nobody else who is a) as good-looking as him, b) exotic in the sense that he's American-come-Scottish, c) who can act in a drama, who can act in a comedy, who can front a documentary, who can sing, who can present, who can judge, who can dance, who can do all those things.   There is nobody else out there who can straddle all that stuff plus, outside of television, have a successful career as a live concert artist, as a star of West End theatre, as a writer, as a recording artist.  There is nobody else like it.  So they embrace that uniqueness.
There are people out there who try to compartmentalise, which we fight like mad.  And the viewer can sometimes get confused.  The wonderful people we work with on the concert tours - Paul Crockford and Neil O'Brien - and I spent many a time trying to reach out to more people.  There are certain people who watch Torchwood, who still don't know that John can sing.  We keep thinking, how can we get to these people?   Sometimes when you are as unique and diverse as that, you can confuse an audience.  They feel a lot happier with a David Tennant, who is an actor; he may turn up on Have I Got News for You, but ostensibly he's an actor and that's what he does.  We want to teach everybody that you can do ALL these things and  it should be celebrated.
JB.com:  What's on your iPod?
GB:  A lot of showbizzy music!   I love musical theatre and I love 70s disco.  70s and 80s music which I love running to at the gym.  Also Bublé and all that.  You won't hear me listening to very modern music!
JB.com:  Where do you see yourself in ten years' time?
GB:  In ten years' time, I would like to be doing more producing.  I never want to give up the management, I love management. I would love to have just a handful of clients, be producing more television and be doing more international work, working more in America – obviously with John.
JB.com:  And finally, tell us a secret about yourself!
GB:  I have a trampoline in my garden in the country (we have a cottage in East Sussex) which I use solely for sun-bathing - I am a real sun worshipper, being a summer baby and therefore loving  the sun - any opportunity to be out in the sun, and I take it - and the trampoline is the most perfect place to sun bathe!
Many thanks to Gavin for taking the time to chat and to everyone who sent in questions!